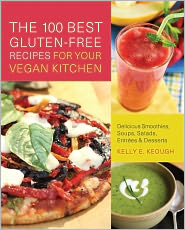 Those of you following alternative diet lifestyles can appreciate how difficult it can be.
Living a gluten-free life can be a challenge; following a vegan diet can be equally challenging. Combining them both? Sometimes it can feel impossible. Add in sugar restriction and you almost have to cook, or at the very least rely on simple choices.
My friend and colleague,
Kelly Keough
, is a talented chef who has worked in the natural products industry for some time.
Kelly has that unique ability to exude both confidence and a certain self-deprecating sense of humor. She is high energy and spends a considerable amount of time pursuing new recipes, as well as new ways of doing old things.
She has written several easy to understand cookbooks, hosted her own cooking show, and most importantly-- she walks the walk. Not only does she focus on reinventing recipes to be sugar-free by combining various non or low-glycemic sweeteners, she has responded to requests by people such as myself, to lose the gluten, or the animal products, or to put forth more raw offerings...
Just creating recipes that are both vegan
and
gluten-free is a major undertaking. Many vegetarian/vegan "meat" substitutes are made with wheat and although there are some great main dishes that are gluten-free, they usually are not vegan.
Her books are available at Barnes & Noble, both print and ebook versions. (For the sake of clarity, I don't know for certain that all of her books are vegan and/or gluten-free. The one I have linked to is; also, Kelly is known in our "circle" as the "sugar-free, natural chef".)
She also has videos posted on
You Tube
, or you can go to her website,
KellyKeough.com.
Kelly currently hosts cooking classes at various locations in Los Angeles and Orange County.
Also See:
Dr. Oz's Favorite Natural Sweeteners
and
Reviewing... Gluten-Free Product Production
*For those of you who don't want to bake your own treats and would rather buy them, the gluten-free market is expanding quickly. If you are avoiding sugar as well as gluten, check out
Fabes Natural Bakery.
Not all Fabes products are gluten-free, but all
are
fruit juice sweetened. (This is a real defining factor; I don't know of many companies using only fruit juice.)